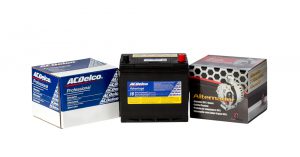 Electrical Parts for Automotive and Light Trucks
The electrical system of your vehicle provides electrical power to your vehicle components, such as power windows, power doors, vehicle electronics and more.  This system is powered by your car battery which provides a closed electrical circuit within your vehicle. Guelph Auto Parts provides starters, alternators and batteries from suppliers such as AC Delco, Wilson and Exide in both new and remanufactured alternatives.
Our AC Delco batteries Gold series carries a 42-month hassle-free replacement warranty, with no prorating.  Our Silver series includes a 30-month free replacement warranty and our Advantage series carries an 18 month free replacement warranty.  Remanufactured AC Delco starters and alternators carry a lifetime warranty.